Visit from Japanese TCM Association Delegation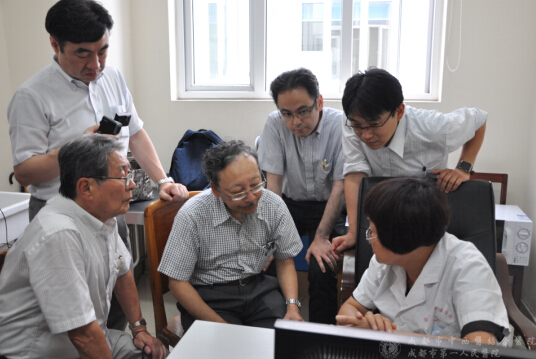 On June 22, 2016, the president of the Japanese Association of Chinese Traditional Medicine, Mr. Hiroki Hira, and his team of 8 people, accompanied by Mr. Yang Tao, Director of Dujiangyan Health and Family- planning Bureau, and Mr. Liu Jianping, deputy director, visited the Dujiangyan TCM Hospital affiliated to Chengdu First People's Hospital.
Mr. Hiroki Naoki visited the hospital outpatient hall with great interest and listened carefully to the introduction of the hospital, key specialties and discipline construction. Then, the delegation visited the Preventive Medicine Center and had a cordial conversation with Ms. Chen Lu, head of the centre. After that, the delegation visited Hu Xuefang's TCM clinic, a nationally famous TCM doctor who was born into a family with TCM tradition. During the visit to the ward, the delegation gave high praise to the profound Chinese medicine culture and medical skills of the professionals, and showed great interest in the unique Chinese medicine diagnosis and treatment methods.